Computers drive the era we're living in. A few years ago, we would have said that having a working computer network for your employees is becoming ever more essential. Now, it's non-optional, and having a computer repair company on-call is too.
How to Find a Good Repair Company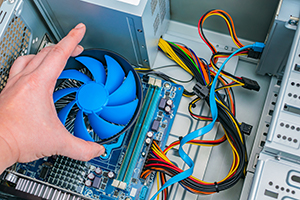 Here are a few tips for finding a good computer repair service
Check the Reviews
You don't want to go in blind. Checking online reviews for your computer repair service will help you determine quality before you even get a returned product.
Look Up Staff Credentials
Get to know the people running a computer repair company before hiring them. Their past employment and bios can provide you with valuable information about how much care they'll put into their company.
Check Out the Services
Depending on the problems you're likely to face in your business, you might not even be able to enlist help from your chosen company. They may have an area of expertise that differs from what you need. Some companies are more flexible than others, so ask a company about its services.
Determine Accountability
Those reviews we mentioned can tell you a lot about your chosen computer repair company. Reviews may tell you that your intended company refused to take accountability for damages to computers or shoddy services. Both of these are huge red flags and should exclude a company from your list of considerations.
Computer Repair Company with Microtronix Tech
With Microtronix ESolutions IT Division, you'll receive skilled computer repair and a wide variety of service areas. We have experience troubleshooting an extensive range of computer problems and can get your business back on track to success. Customers who use Microtronix ESolutions IT Division for their computer repair solutions keep their workplaces up and running. Contact Us Today! and one of our friendly staff members will be happy to assist you!