Cyber-warfare is continuously ongoing in the underground channels of the web. According to some sources, hacking and cybercrime will cost businesses a total of $6 trillion by 2021. That's a high collective price tag. So what network solutions are businesses employing for greater security?
Network Solutions Experts Provide Indespensible Services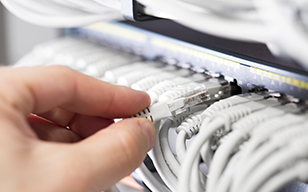 Businesses have enough on their hands- accounting for their money, planning marketing strategies, and organizing workflows can be incredibly time-consuming tasks. To add cyber-security on top of that is often a recipe for disaster.
Businesses that want real, working solutions to cybercrime and ransomware often turn to professionals outside their own companies. Hiring a group of experts can keep you up to date on the latest in cybercrime and prevent disaster for your company.
A few types of cybercrime a company might fall victim to are:
• Malware
• Denial-of-Service Attacks
• Ransomware
• Malware
• Fishing
All of these forms of cyber-attack can occur in seconds and can cost your business a fortune. Keeping on top of all possible avenues for cyberattacks can be life-or-death for a company that does most of its business through computers. In this age, that's most companies.
Keeping up with these possibilities requires expertise, which network solutions experts have in spades.
Experts at Microtronix Keep Businesses Secure
Microtronix understands that not all business owners are tech-savvy experts. Some come from the age of the paper memo when a locked filing cabinet was enough to keep your info safe. Others just never had time to look into it. Whoever you are, you don't have to suffer from malware and other cyberattacks.
The experts at Microtronix are adept at keeping businesses safe from ever-evolving online threats and spend day and night devising new solutions to new problems. Don't get caught on the wrong side of the web- Micrtoronix can develop a security solution for you. Contact Us Today!